IT Support for Accounting Professionals and CPAs Protect client data while managing your cyber risks.
Protect client data while managing your cyber risks.
Managed IT Services for Accountants and CPAs
At Click IT, we provide IT support and services to accountants and CPAs. Our specialty is helping smaller firms, but we also are equipped to handle larger firms with multiple locations. Accountants especially value our systems that save time and money where we specialize in keeping client data safe and secure. We know that accuracy matters in all tasks and that IT problems can cripple a business especially when peak tax season hits.
A well-managed IT infrastructure becomes invisible when managed properly. Let Click IT take care of the technical details while you focus on client acquisition, payroll, tax consulting, and the important services you provide for your clients.
We can protect your business and help you and your clients meet compliance requirements.
Click IT will protect your network with strong perimeter defenses
Repel viruses, malware, and phishing attacks while encrypting sensitive email and client data

Review your compliance requirements and develop a plan to meet those needs

Upgrade your support for peak seasons
Let Click IT deliver the same level of professionalism and expertise to your IT infrastructure as you do to your clients.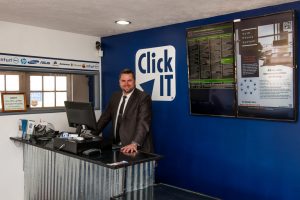 Click IT understands the technology tools that companies in the accounting industry rely on every day, such as Intuit QuickBooks, with which we are an approved developer. Let Click IT manage your IT so you can focus on the core functions of your business.
Custom IT Solutions for your Accounting firm
A reliable IT support company that can keep up with your demands is essential. We understand that you require accurate and immediate support to help fix any issues, whenever and wherever they happen.
We understand the unique nature of the accounting industry and the challenges you face, including:
Protecting confidential and private client data

Sharing confidential information between your office and clients

Communicating with governmental agencies

Meeting strict deadlines during peak season
We are proud to support your systems and ensure uptime, providing support for third-party applications and liaising with vendors should any issues arise.
You can rest assured that we will take the time to understand your specific business needs, devising a tailored solution that will enhance your productivity and help you get your work done faster.