The Click IT Business Opportunity
Click IT is an emerging franchise network focused on becoming the preferred and trusted "local IT department" on Main Streets throughout the USA. Click IT has been coined "the McDonald's of IT." We are fortunate in that we continue to have an overwhelming response to our limited marketing exposing Click IT as a business opportunity. Therefore, it's best to express an interest in our franchise one of three ways: 1) Fill out and submit our Basic Application form, 2)  Take our Personality Traits Test, and find out fast if you have the right stuff to be a successful business owner, or 3) Fill out and submit our Request for Consideration form. Then, once you've completed at least one, or all three of these tasks, you can begin learning more about the Click IT store business opportunity by registering to become a member of this portal.
Why Click IT?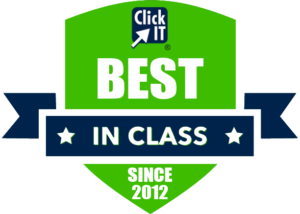 Because We're a Proven Business Model and an Essential Business in a Growing Market - Click IT is open for business during these uncertain times, as an "essential business" as defined by the local, state, and federal governments. More than just a proven business model, Click IT produces a solid recurring cash-flow and an unsurpassed return-on-investment, that will never be shut down. With the most 'best-in-class' IT products, solutions, and services to sell, Click IT produces the highest sales and profits than any other franchise in the tech field (see https://topitfranchises.com). Focused on serving small businesses whose IT needs are underserved, the market demand for IT service providers is growing from $180.5 billion in 2018 to $282.0 billion by 2023; a 60% growth rate. There are no material seasonal variations in the market. Based on our experience in operating our store since 2012, Click IT's systems (our secret sauce) and approach to the marketplace positions Click IT with a competitive advantage. Click IT also has a stellar 5.0 reputation and now hundreds of steady customers served regularly by our company store in the quaint Village of Chagrin Falls, Ohio.
Because One Doesn't Have to Be a Geek to Own a Click IT Franchise

 - We've built "pick it and click it" websites that make it easy for our franchisees to service customers with IT products, services, and solutions using our platform. Our Platform is our "Secret Sauce" that allows franchise owners to easily manage all of Click IT's products, solutions, and services. Click IT has over 20 websites focused on nitches, as described by our division websites. The reason for this is so we can serve as the IT department without any hesitation, covering every IT need. We market and sell our solutions and services to communities of residents and businesses by using our online company store, which also serves as our point-of-sales cash register (POS) in our retail store. Franchise owners easily establish their market presence in their territory using our website-dominance techniques. A franchise owner leads their store's team in providing trustworthy local IT support and repair services, while up-selling vast choices in platform-rich products, services, and solutions to their communities.
We provide Guidance with Funding Your New Business - Click IT is committed to the success of our franchise owners. We help our owners select their territory and manage their local web presence using proven search engine optimization techniques. Over 20 websites offer an array of products, services, and solutions like none other, and our portals with the tools provided reduce the burden of seeking out customers so they more easily succeed. With 40 hours of classroom and on-the-job training, we walk owners through their first year, task by task, with a Business Implementation Plan, plotting a course to sustained growth. Click IT has been pre-qualified by the Franchise Registry and is an approved franchise on the SBA franchise registry site to expedite the lending process.
We Provide Extensive Help with Territory Selection - Deciding on an ideal location is critical, so when an area has been narrowed down to consider opening a Click IT store, our level-3 franchise candidates get a demographic study of their area. In this study, we typically come up with recommended locations to consider. For information on how to find your ideal location, see How to Find Your Click IT Retail Space.
Lots of Training and Support for the Franchise Owner - Franchise owners are initially given 40 hours of classroom and on-the-job training at our company store in the Village of Chagrin Falls, 30 minutes east of Cleveland, where they learn a methodology plotting a course to high and sustainable profits. But it doesn't stop there. Our support is ongoing and committed. See https://clickitfranchise.com/what-a-click-it-franchise-owner-gets.
We Give Extensive Assistance and Tools to Franchise Owners to Easily Find Customers - Prospecting for new business is one of, if not THE most important tasks a small-business owner has to do today. Instead of relying entirely on advertising, Click IT has developed an array of software tools we give our franchise owners for them to use to lessen the burden of seeking out new customers. One of the most effective tools we developed internally, for instance, to easily prospect potential clients, is called WP Sales Prospector: See https://clickitprospector.com/wp-sales-prospector and watch the video for a full demonstration of how it works.
Competitive and Strategic Advantages - Our founder is a seasoned entrepreneur with a track record of building recurring-revenue businesses from the ground up. He is the creator of hundreds of innovative products, solutions, and services for both consumer and industrial markets over the decades. Click IT has emerged from this experience, a concierge-like "local IT department" with over 20 verticals and a proven, low-investment-high-reward model.
We Give You the Best in Systems, Procedures, and a Full-Blown Knowledgebase to Run a Click IT Store - Click IT's systems that enable you to sell and deliver our IT solutions, services and products are the best in the industry. Be sure to get a full demonstration of how our systems are integrated into our store, point-of-sale, delivery, and management systems, which is proprietary to the Click IT Store intellectual property you get when awarded a location. Everything, from the pricing and services menus to our POS system is web-based. Be sure to ask for a full demonstration of our backend systems.
We Have a Clear and Concise Process in Order to Become an Owner - Lastly, we have a clear and precise process for our franchise candidates to be brought through, so at all times they have a complete understanding of what they need to do to be invited to become a Click IT franchise owner. See https://members.clickitfranchise.com/steps-to-becoming-a-click-it-franchise-owner/.
"Click IT Franchise is an Essential, Pandemic-Proof Business"
Click Here to see all the steps necessary to becoming a Click IT franchise owner.