Steps to Becoming a Click IT Franchise Owner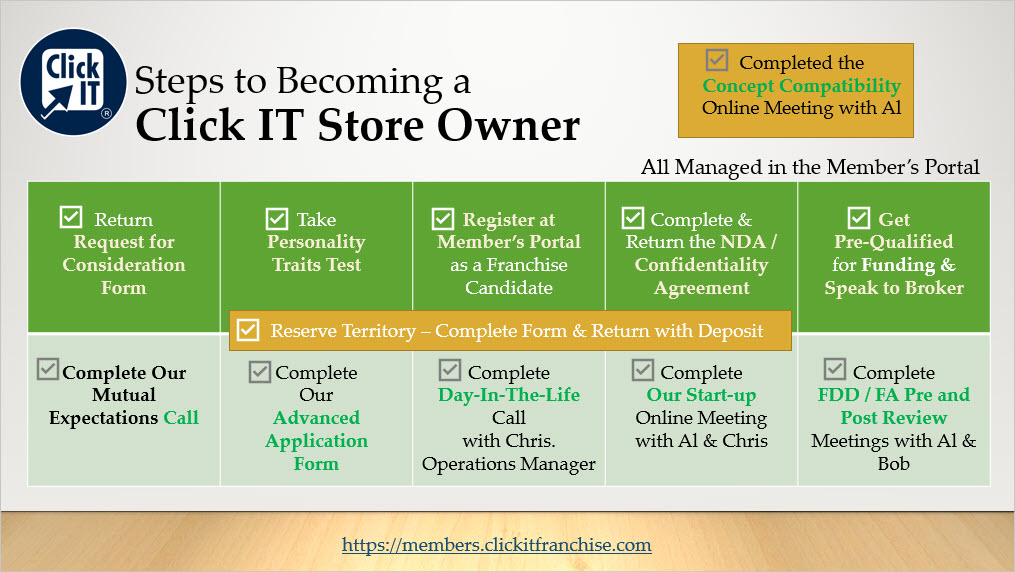 A. Phase 1
☐ FIRST STEP: Review Our Booklet: Click Here
☐ NEXT STEP: Fill Out and Return Our Request For Consideration Form
☐ Discover if owning a Click IT store is a good fit for you? - Finding our ideal candidate for Click IT franchise ownership we feel is one of our most important missions. We first evaluate if you're a good match for our franchise system and that Click IT fits within the realm of your previous work history, acquired talents, financial goals, and objectives.
NOTE: You need to have a minimum amount of liquid capital and qualify for the minimum amount of funding needed to open a store. Our experience has proven that in order to qualify for an SBA loan, your credit rating should be above 680. Exceptions are made for military veterans and in instances of extenuating circumstances. We can help you with all of this, once we agree that Click IT is a good match and you have committed to us. See Required Qualifications to learn more.
During this period of getting to know each other, we invite you to complete the following:
☐ Have a "Concept Compatibility" call with Al Harlow, our Founder, CEO, and President.

During this meeting, it will be decided if registering you as a member of the Click IT Members' Portal is appropriate. If so, click REGISTER. You will be approved automatically, once you confirm your email, at Level 1.

☐

Register at this Member's Portal as a Franchise Candidate.

☐ T

ake our Personality Traits test.

The downloadable version is an Excel spreadsheet that uses macros. This is an important step for both you and Click IT because we all need to be confident in our belief that you will succeed in using our systems as an independent business owner.  You can read all about what we are looking for in personality traits as we build our network, by going to Our Ideal Candidate. (Level 1)
If you pass this test, you will be promoted to Level 2 access.

☐ Next, return the signed Confidentiality Agreement.
If you complete the three steps above, you'll receive notification of your promotion. Then when you log into your account at https://members.clickitfranchise.com, you'll see the added menu links, which are links to confidential information you'll want to review. During one of our shared screen sessions, we will point out the links to key materials.
At Click IT's discretion, at this time, you may be given the privilege of reserving your territory at this point.  The maximum time allowed to complete all the rest of the steps as outlined below is 60 days. A minimum fee payment is required, which goes towards the franchise fee. See Territory-Reservation-Form for more information.
B. Phase 2
Once the territory has been reserved and you are committed to our process, we work with you in completing the following steps.
☐ The following subjects will be covered in phase two, during online meetings, where we share a screen together:

☐ Mutual expectations

☐ Startup

☐ Pre-FDD

☐ Post FDD

☐ Discovery Day (Optional)

☐ If you haven't taken the test already, please take our Personality Traits Test, which helps us determine what level of competencies you have, and where you will need coaching.
☐ If you have less liquid capital than the minimum cost we estimated it takes to open your store, you'll need to get pre-qualified to receive outside funding, such as an SBA loan. Before we accept a territory reservation, we must have a high degree of confidence you will qualify for funding. At this phase we will work to make sure your business plan is in step with your funding source, which is selected at your discretion. We have a templated financial projections spreadsheet and business plan for you to use. There may be some need for edits, so we will work with you to assure our templates work well for the chosen funding source. Go to https://members.clickitfranchise.com/funding-options to learn more. The sooner you arrange funding the faster you can afford to open your Click IT Store. The amount of time this takes varies, but many times depends on how fast you can meet the requests of the funder. At this point, it is wise to check with any of your current personal financial advisors. (Level 1 & Level 2)
☐ Finding your best location to locate a Click IT store is a task that we next will help you with, once you are enrolled in a program. For level 3 candidates, we will build maps in desired areas with the areas' demographics showing the resident and business populations. To learn how we work with you to research and find your store location, go to https://members.clickitfranchise.com/how-to-find-your-click-it-retail-space.
B. Registration:
☐ As a registered "Franchise Candidate", inside this private portal on your Account page you have access to much more information about the Click IT franchise. (The degree of information exposed depends on which level you've been approved.)
☐ When registering, you will be reminded to sign our Confidentiality and Non-Disclosure Agreement in order to upgrade your account so we can reveal insider information about our franchise. In this agreement, you agree to receive all our documentation electronically which we do to save trees (as a Green Company) and make the exchange of information more efficient. (This enables you to graduate to Level 2.)
☐ Once you have signed this agreement, email it back to

[email protected]

. To log in, go to https://members.clickitfranchise.com/login. On the My Account page, you will see which level you're at. (There are four levels we expose a graduating amount of information, from less important and sensitive to most important and highly confidential. The levels are 1, 2, 3, and then "Owner", which has exposure to everything.)
☐ You will next need to schedule a time to speak with AL (our President) and Chris, (Click IT's Operations Manager). This first call is to get to know each other and learn more about you, while Chris enlightens you about the day-in-the-life of a Click IT store owner/manager. This will be about an hour-long conversation, where we also can answer any of your questions regarding our operations. You can make an appointment with us by going to https://clickitgroup.com/make-appointment. (You must have signed the Confidentiality Agreement before this conversation and been graduated to Level 2. Ideally, you should also have been prequalified as far as your finances before this conversation, although this is not a requirement.)
☐ In order to graduate to the next level in the process of becoming a franchise owner, you also must complete our Advanced Application Form. (If you filled out the Request for Consideration, then you do not need to fill out the Advance Application Form.) You will find a link to it on Your Member's Account Page. You must be logged into the portal to access this application form, and it is designed to save your progress so you can go back to it if you can't complete it in one sitting. (Level 2.)
☐ Next will be to schedule a call again with our President, AL Harlow. During this call, he may have Robert Rosenfeld, of VP of Legal) on the line, depending on how far along the process is moving for you. This will be an opportunity to discuss your chosen area to locate a store, and any further questions you may have to get more acquainted. AL will share with you at this time, more details about certain divisions of the business, so you will become more familiar with how Click IT differentiates itself with over 12 divisions of IT products, services, and solutions. Schedule an online meeting by going to his calendar: https://clickitgroup.com/make-appointment.
C. FDD & FA:
☐ Assuming you've completed the Advanced Application or have been invited into our application process, and we all agree that we'd like to move forward to the next steps, you will be graduated to Level three where your portal will have links to all our highly confidential legal documents. The two most important documents are a) The Franchise Disclosure Document (FDD) and 2) the Franchise Agreement (FA). AL along with Bob will review the information in these documents, and if you have a franchise consultant, he or she can also provide information to help you in understanding what the meanings of certain clauses are, in comparison to other franchise documents that are similar, based on experience. It is important at this phase of the process that you bring in any legal and financial advisors, which will help make this step in discovery go much smoother.
D. Discovery Day (Optional):
☐ If all goes well, with all outlined above completed, then you have a choice of reserving your territory, if this is option is offered to you, or come to a Discovery Day at Click IT in Chagrin Falls, Ohio. If you come to visit us during a designated time, you will be able to meet the entire team in person and see for yourself the corporate store in action. A physical visit will allow you to see, touch, and experience every aspect of running a Click IT store. (To see accommodations surrounding Click IT, go to Map-of-Surrounding-Area.) To make your reservation for a scheduled Discovery Day, which happens the third Friday of every month, go to https://events.clickitcomputer.com/events/.
☐ At a Discovery Day, you will be given complete access to all that we do. You will see firsthand the systems we use and will be able to speak openly with our entire staff. The purpose of our headquarter store in Chagrin Falls is to service our customers primarily, but it has also served as our Petri dish where we have learned the ins and outs of how best to sell and deliver our IT services, products and solutions to now over 2,000 customers in our local area.
☐ While getting to know each other better in person at Click IT, you and our staff will be discussing every aspect of running a Click IT store. Our intent is that you will leave with a very good understanding of what is required to open and run your Click IT store, with a high level of confidence that you will succeed in doing so, thereby achieving your dream of owning and running a successful business, making a good living, with normal business hours.
E. Award:
☐ After your meeting with our executive team at Click IT, either online or in-person, you will have a good indication of whether or not a Click IT Franchise will be rewarded.
☐ The entire franchise fee of $49,996 (less any discounts allowed) is due at this time the Franchise Agreement (FA) is executed. The FA is easy to complete by filling in the questions on the back pages. See Franchise Agreement. Any previous payments made, such as in making your Territory Reservation, will be deducted from this final fee.
☐ As a new franchise owner, you'll next need to arrange when you will be attending a three-day-long training session at the company store, or where we designate it. Simply sign up for an upcoming class which you'll find published on our events calendar found at https://events.clickitcomputer.com, or speak with us. You'll be provided with the training schedule prior to your coming to headquarters. If there is nothing posted within a reasonable time, or if you need to request a certain time to be trained, or want to add individuals to the training roster, please just contact us to discuss and we will do our best to accommodate you.
☐ Start to complete the New Franchise Owner's Onboarding Form. You can return to it at any time as more information becomes available. This is the information we use to get your store completely set up, from the creation of your websites, your company store, and your online presence.
☐ You will be given access to our Knowledge-base while we begin the process of preparing the launch of your new Click IT store. CONGRATULATIONS. You have graduated!
________________________________________________________________
Making the decision to become a Click IT Franchise Owner is a big decision for both us as the franchisor and you as a new business owner. We believe that this process will produce for us as an entire organization, the best-in-class franchise owners ever assembled.