Empower your students with the reliable, secure technology
Managed IT Services for Education
At Click IT, we specialize in supporting both private and public educational institutions, from charter school to local school district campuses. We understand you need to protect your students and their private data while balancing the needs of your staff to access information for lesson planning and other daily activities.
We can design a support matrix that maximizes your budget while respecting the needs of each community. We love critical summertime projects. We manage it all including Chromebooks, tablets, servers, and networking.
We improve your team\'s efficiency and give you the advice you need in these challenging times where technology is rapidly changing.
Focus on your students and staff while we help you:
Protect student private data
Advance learning with video conferencing, electronic blackboards, and VoIP
Defend your network perimeter and prohibit inappropriate web browsing with strong heuristic DNS filtering
Empower your staff with 24/7 help desk support
Let Click IT help you focus on what matters most to your school.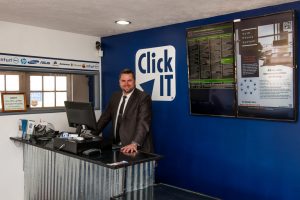 We know the technology tools that leaders in the education industry rely on every day. Let us manage your IT so you can improve student outcomes.
Custom IT Solutions for Education
Is it possible to keep up with IT demands in education? At Click IT, we can and do. First, we support schools across North America, each with their own unique requirements. We respect the fact that your school and community may have special needs, and we work together to meet those requirements.
Common issues we\'ve solved include:
Segmenting networks between students and staff, limiting internet access and blocking specific categories of sites.

Building technology labs that support student learning, with support for Windows and iOS systems.

Crafting disaster recovery and data protection plans while recovering from inadvertent mistakes.

Supporting remote students.

We are proud to support your systems and ensure uptime, providing support for third-party applications and liaising with vendors should any issues arise.
You can be assured that we will take the time to understand your specific needs and devise a tailored solution which will enhance your productivity and help you get your work done faster.