Be productive - at the office and in the field.
Managed IT Services for Engineering and Design Companies
Do your clients expect immediate access to work products? We call that the consumerization of IT, which means that it\'s becoming tougher to meet client expectations and self-manage an IT infrastructure. Meanwhile, your team is clamoring for newer software, fast file sharing, high-performance office networks, and specialized applications to speed up workflow and improve project collaboration.
We understand the challenges your company faces. Let us help. We\'ll focus on the IT infrastructure while you focus on what you do best, running a successful design or engineering firm.
Ways to position your construction company for success with IT services:
Protecting your network with strong perimeter defenses
Repel viruses, malware, and phishing attacks while encrypting sensitive email and client data
Review your compliance requirements and develop a plan to meet those needs
Upgrade your support for peak seasons
Let Click IT deliver the same level of professionalism and expertise to your IT infrastructure as you do to your clients.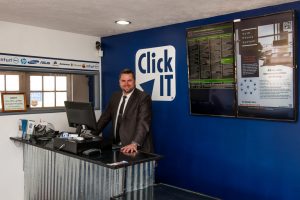 We know the technology tools that companies in the engineering and design industry rely on every day. Let us manage your IT so you can manage your business.
Custom IT Solutions for the Engineering and Design Industry
A reliable IT support company that can keep up with your demands is essential. We understand that you work in a fast-paced industry and require immediate support to help fix any issues whenever and wherever they happen.
The unique nature of the engineering and design industry includes these challenges:
The need for high performance systems to support complex modeling and large data files

Sophisticated team members with high expectations for IT performance and support

Protection of intellectual property

Remote job duties
We are proud to support your systems and ensure uptime, providing support for third-party applications and liaising with vendors should any issues arise.
You can rest assured that we will take the time to understand your specific business needs, devising a tailored solution that will enhance your productivity and help you get your work done faster.