IT Support for the Finance and Insurance Industries
Preserve client trust. Manage your cyber risk.
Managed IT Services for Finance and Insurance
When you have a fiduciary duty to your clients, you cannot cut corners with IT. At a minimum you need a cyber security professional to assure you meet your responsibility to protect confidential and protected personal information. At Click IT, we use trusted processes to manage everything, from your network, to systems, data and applications. Our proactive management systems and process build trust in our client\'s IT, which in turn keeps their client\'s trust. We can serve as your information security officer, and assure you have current privacy and security risk assessments, a secure network, encrypted email, and secure file sharing. We understand that you value systems that save your time and money and keep your client data safe and secure.
A well managed IT infrastructure becomes invisible when managed properly. Let us take care of the technical details while you focus on client acquisition and the important work you perform for your clients.
Protect your business and meet compliance requirements:
Protecting your network with strong perimeter defenses

Repel viruses, malware, and phishing attacks while encrypting sensitive email and client data

Review your compliance requirements and develop a plan to meet those needs

Upgrade your support for peak seasons
Let Click IT deliver the same level of professionalism and expertise to your IT infrastructure as you do to your clients.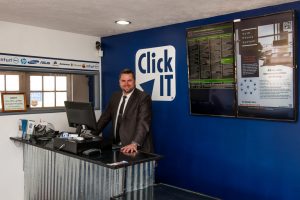 We know the technology tools that companies in the finance and insurance industry rely on every day. Let us manage your IT so you can manage your business.
Custom IT Solutions for Finance and Insurance Companies
A reliable IT support company that can keep up with your demands is essential. We understand that you work in a fast-paced industry and require immediate support to help fix any issues whenever and wherever they happen.
We know the unique nature of the finance and insurance industry and they challenges you face, such as:
New cyber security regulations

Threat of cybersecurity attacks

A balance of security and accessibility in regards to electronic records

Secure sign-on and two-factor authorization
We are proud to support your systems and ensure uptime, providing support for third-party applications and liaising with vendors should any issues arise.
You can rest assured that we will take the time to understand your specific business needs, devising a tailored solution that will enhance your productivity and help you get your work done faster.