IT Solutions for the Healthcare Industry
HIPAA Compliant Managed IT Service for Covered Entities and Business Associates
Managed IT Services for Healthcare
At Click IT, twenty-four percent of our clients are in the healthcare industry. We support both covered entities and business associates, and understand the deep responsibility of providing HIPAA compliant IT services. We released our own HIPAA compliance program in September, 2013.
Recent cyber attacks on hospitals and small practices serve to underscore the relationship between IT and patient outcomes. We understand what it takes to support a true mission critical environment.
A well managed IT infrastructure becomes invisible when managed properly. Let us take care of the technical details while you focus on patient outcomes and growing your business.
Protect your business and meet compliance requirements with:
Privacy and Security Risk Assessments, Risk Mitigation Projects

Multi-layered HIPAA compliant cyber security framework

Proactive HIPAA compliant IT services

Consulting for any of your business associates to protect your business
Let Click IT bring the same level of professionalism and expertise to your IT infrastructure as you do to your patients and clients.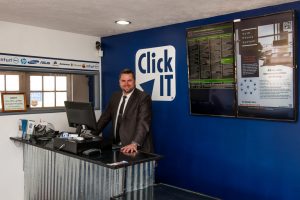 We know the technology tools that companies in the healthcare industry rely on every day. Let us manage your IT so you can manage your business.
Custom IT Solutions for your Healthcare Company
A reliable IT Support company who can keep up with your demands is essential. We understand that you work in a fast paced industry, and require immediate support to help fix any issues whenever and wherever they happen.
We know the unique nature of healthcare and the challenges you face, such as:
New HIPAA regulations

Threat of cyber security attacks

Support for remote working

Support for mobile devices
We are proud to support and ensure uptime of your systems, providing support for third party applications and will liaise with the vendor should any issues arise.
You can be assured that we will take the time to understand your specific business needs and devise a tailored solution which will enhance your productivity and help you get your work done faster.