Secure, reliable IT that helps law firms thrive
Managed IT Services for law firms
Running a law firm isn\'t as easy as it once was. Three factors melded together to make IT a crucial component of a law firms profitability: 1) Amendments to the Federal Rules of Civil Procedure extending the rules of discovery to electronic information, 2) Massive growth of electronically stored information (ESI), 3) Reliance on case management software. IT is mission critical to law firms, yet because IT is a cost center and not a revenue generator, investments are limited. Your law firm deserves professional management that will improve business results and profitability.
It is often said that only a fool represents himself in court. The same can be said for IT support. Trust the professionals at Click IT to give your law firm the reliability you need at a price you can afford.
A well-managed IT infrastructure becomes invisible when managed properly. Let us take care of the technical details while you focus on winning your cases and advising your clients.
Exploit your winning IT advantage with:
Professional, proactive network, systems, data, and cloud management
Multi-layered cybersecurity defenses to repel hackers
Encrypted email and secure, audited file sharing
Comprehensive data backup and business recovery processes to protect you from human error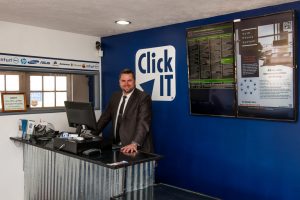 We know the technology tools that companies in the legal industry rely on every day. Let us manage your IT so you can manage your business.
Custom IT Solutions for Your Legal Company
A reliable IT support company that can keep up with your demands is essential. We understand that you work in a fast-paced industry and require immediate support to help fix any issues whenever and wherever they happen.
We know the unique nature of law firms and the challenges you face, such as:
The need for systems to support supplemental contract document review staff

The computing demands and storage requirements for electronic discovery

The mission critical nature of litigation support

The high demands partners can make when under pressure
We are proud to support your systems and ensure uptime, providing support for third-party applications and liaising with vendors should any issues arise.
You can rest assured that we will take the time to understand your specific business needs, devising a tailored solution that will enhance your productivity and help you get your work done faster.