IT Support for the Real Estate Industry
Mobile-friendly secure technology that fits your fast-paced life
Managed IT Services for Real Estate Businesses
You rely on your mobile device to store confidential client data and share information with buyers, sellers, mortgage brokers, title companies, and others. Since you and your staff are always on the go, you need the best when it comes to smartphone and tablet support, cloud applications, network performance, data encryption, and cybersecurity.
Close the next deal by:
Protecting your network with strong perimeter defenses

Repel viruses, malware, and phishing attacks while encrypting sensitive email and client data

Protecting your business from human error with professional data backup and recovery

Transforming your IT technology to be as professional and flexible as you and your staff
Enjoy the 24/7/365 support, because like real estate, we understand this isn\'t a nine to five business.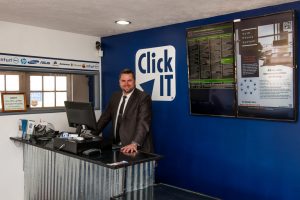 We understand the technology tools that companies in the real estate industry rely on every day. Let us manage your IT so you can manage your business.
Custom IT Solutions for Real Estate
We\'re an expert at network bandwidth, voice communication (VoIP), wireless Internet support, applications support and customer service. We serve your clients as an extension of your team, and with the same level of dedication and professionalism.
We understand the challenges you face, such as the need to:
Protect financial and other personal information

Exchange sensitive information with buyers, sellers, and banks

Segment your network to separate guest access from staff access

Maintain a website presence that professionally represents your business
We are proud to support your systems and ensure uptime, providing support for third-party applications and liaising with vendors should any issues arise.
You can rest assured that we will take the time to understand your specific business needs, devising a tailored solution that will enhance your productivity and help you get your work done faster.