The Click IT store opened in 2012 on Main Street in Chagrin Falls, Ohio, providing managed IT services to a small suburban community of just 46,026 residents and 3,170 businesses.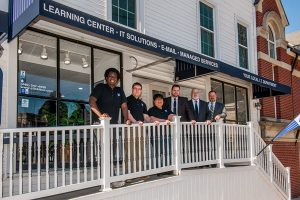 Click IT Chagrin Falls now provides to over 2,400 residents and commercial customers, technical services, products, and solutions in its retail-store setting. In 2020, through systematizing the business operations into a franchise model, we started offering entrepreneurial-minded people a huge opportunity to be in their own highly profitable business, helping their community members thrive and prosper securely in this IT-driven economy. We now have 3 stores with more opening soon. See https://clickitstores.com.
Our franchisees serve their local communities in a manner that is similar to IT departments inside large corporations. As an emerging franchise, we have achieved the following:
Received a grade of "A" from Franchise Grade which confirms our credibility.
Developed our dynamic and manageable online POS: For example, https://clickitstores.com/ohio-chagrinfalls.
Proved that Click IT has a business model with a better-than-average return (for instance, a 40% EBITA in 2020 on $584,000 in sales with 2,400 customers and 370 MSP endpoints, i.e., seats).
Ranked the #1 IT Franchise" by Top IT Franchises.
Click IT is now seeking ideal candidates to train and support in our exclusive network. We are implementing a new marketing and sales plan to dramatically grow the number of Click IT franchise stores in the next few years.
Unique Opportunity: Click IT Franchise provides a unique opportunity to be one's own boss and benefit from its highly demanded and unique method of offering and delivering IT services. Click IT is the #1 IT franchise on offer today in the Managed IT Services category (see https://topitfranchises.com), and the only brand to offer managed IT-as-a-service to both consumers and small businesses, from a retail store setting.
Fast ROI: In operating a Click IT store, our owners enjoy selling at the highest margins, offering the opportunity for a fast return on their investment. In operating a Click IT store, one offers over 12 proprietary IT categories (see https://clickitgroup.com/about) proven to earn better returns while satisfying an increasing demand for IT services.
You don't have to be a "geek" to own a Click IT Store.
Click IT delivers all its IT through using web services. This means that in order to deliver IT services to customers, a franchise owner just "picks it and clicks it". This is a unique advantage of Click IT that sets it far apart from any other IT franchise available.
Lots of Training & Tools Provided: To the franchise owner, we provide 20 hours of classroom and 20 hours of on-the-job training to learn our methodology for plotting a course to high and sustainable profits. Franchisees love being the owner of a Click IT store because they have the toolkit and autonomy to control their own business. Owners work normal business hours, but, ultimately, can arrange a schedule that works best for them. See https://clickitfranchise.com/why-click-it.
Meeting the IT Needs of Small Businesses: IT services continues to bloom into a dynamic industry, as technology continues to go to the Cloud. Big-box and online retailers are still focusing on selling hardware. This leaves a huge void for locally situated IT service organizations to fill. Click IT's business model of managed support is especially attractive to small businesses that have been neglected by big MSPs. Most smaller operations do not have the technical knowledge, infrastructure, or capacity for managing information technology themselves. Click IT offers franchisees the opportunity to fill this void and be that trustworthy source people can rely upon.
For more information, call 1-(800) 368-7416                              *According to the National League of Cities.